Laser Periodontal Therapy - Dr. David Poiman - Dentist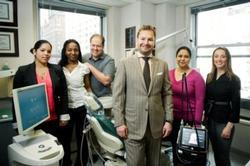 Dr. David Poiman DMD, FAGD New York Center for Esthetic & Laser Dentistry - Dentist
5.0 based on 386 reviews

out of
5
stars
212-371-1414 View Phone
57 West 57 St. Suite 605
New York, NY 10019
Like
Dislike
Laser Periodontal Therapy March 13, 2007, 3:40 a.m.
Do you suffer from red, swollen and tender gums that occasionally bleed when brushed or flossed?

Has your dentist told you that you are suffering from moderate to severe periodontal disease?

Were you told you had "pockets" that were 4 mm or more between your teeth?

Did your dentist refer you to a periodontal specialist?

If you answered yes to any of the questions above, we have a treatment option in our practice that you may be very interested in knowing more about.
The PerioLase
â
MVP-7 laser now gives us a gentle and effective way to stop the damage being done by the infections in the gums.

Patients who have had this form of laser treatment report that they have little or no discomfort after the procedure.

We are proud to be among the first of the growing number of dental offices in the country to provide this breakthrough laser treatment to our patients.
Please call our office at (212)371-1414 for more information about this laser procedure and its applicability to your dental needs.

We appreciate the opportunity to provide you with this gentle, effective treatment.
Share on Facebook
Link