Read review posted by Smiling Patient on March 23, 2016, 11:14 a.m. for Dr. Scott Kissel - Periodontist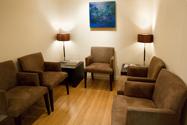 Dr. Scott Kissel DMD - Periodontist
5.0 based on 80 reviews

out of
5
stars
212-702-9088 View Phone
501 Madison Avenue Suite 2101
New York, NY 10022
Like
Dislike
Review
by
Smiling Patient
on Stars: 5.0
2016-03-23
Link
Love Dr. Kissel's office. After getting bad information from a number of different dentists about my periodontal health, I got fed up and went to see Dr. Kissel. He was very honest and straightforward about the state of my gums and teeth and I successfully received a deep cleaning on a few problem areas. I absolutely trust his professional judgment and will continue to see him for as long as I'm in New York. His entire staff is great too!
About Front Desk: Martina is lovely--great to talk to, and both personable and professional.
Front desk:
Hygiene rating:
About Hygienist: Carly is terrific--thorough, gentle, and caring.
My Experience:
Agree
0
Disagree
0
Agree
0
Disagree
0