Read review posted by Liz Sabagh on Dec. 20, 2017, 12:26 p.m. for Dr. David Poiman - Dentist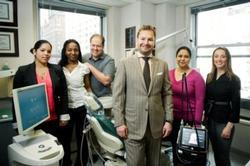 Dr. David Poiman DMD, FAGD New York Center for Esthetic & Laser Dentistry - Dentist
5.0 based on 386 reviews

out of
5
stars
212-371-1414 View Phone
57 West 57 St. Suite 605
New York, NY 10019
Like
Dislike
Review
by
Liz Sabagh
on Stars: 5.0
2017-12-20
Link
Dr. Poiman and his team are top-notch. I've been a patient for at least ten years and I wouldn't go to anyone else. They are professional, punctual and have the most modern technology. James was my dental hygienist on my last two visits and he was wonderful! Gentle yet very thorough and very knowledgeable. And he has great taste in music (unobtrusive)... it's nice to have music in the background to help relax. I highly recommend Dr. Poiman and his entire team.
Front desk:
Hygiene rating:
About Hygienist: (See my overall review)
Hygiene time: I didn't time it, but it was perfect.
I know this doctor: At least ten years
Agree
0
Disagree
0
Agree
0
Disagree
0