Read review posted by Smiling Patient on Dec. 14, 2016, 10:05 p.m. for Dr. Elizabeth Padilla Simply Smiles - Dentist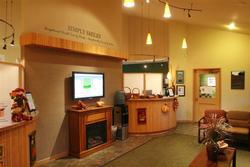 Dr. Elizabeth Padilla Simply Smiles DMD Simply Smiles of Auburn - Dentist
5.0 based on 476 reviews

out of
5
stars
253-939-6900 View Phone
1348 8th St NE
Auburn, WA 98002
Like
Dislike
Review
by
Smiling Patient
on Stars: 5.0
2016-12-14
Link
Did not see Dr. Rich, saw another dentist at Dr. Rich's clinic who was great. Thorough, and was very clear what I needed to do to maintain the health of my teeth. Was recommended a night guard to make sure I did not wear my teeth out.
About Front Desk: Friendly and quick.
Hygiene rating:
About Hygienist: I've never had a hygienist this great, went above and beyond to make sure I understand how to take care of teeth, and what exactly I was seeing on the X-Rays. My hygienist is the primary reason why my review is a 5/5.
My Experience:
Duration: About 1 hour
I know this doctor: First meeting
Agree
0
Disagree
0
Agree
0
Disagree
0