Read review posted by Smiling Patient on Feb. 24, 2017, 1:01 p.m. for Dr. Elizabeth Padilla Simply Smiles - Dentist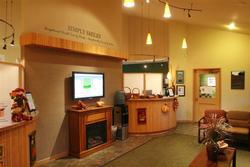 Dr. Elizabeth Padilla Simply Smiles DMD Simply Smiles of Auburn - Dentist
5.0 based on 476 reviews

out of
5
stars
253-939-6900 View Phone
1348 8th St NE
Auburn, WA 98002
Like
Dislike
Review
by
Smiling Patient
on Stars: 5.0
2017-02-24
Link
Dr. Padilla is an awesome dentist! She is very good at dentisry, so caring about her patients making sure they are comfortable and not in any pain during the procedure, and makes sure the work is always done right to her high standards as well as the patients. She will always take the time to make the patient happy. I will not go to any other dentist.
About Front Desk: The Front Desk Staff are top rate. They are always friendly and professional and really care about the patients and the high quality of their office.
About Hygienist: The hygienist is really nice, caring, and always cares about doing a great job without pain to the patients.
I know this doctor: 2 Months
Agree
0
Disagree
2
Agree
0
Disagree
2