Read review posted by Smiling Patient on Aug. 3, 2017, 3:45 p.m. for Dr. Elizabeth Padilla Simply Smiles - Dentist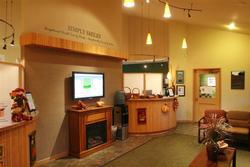 Dr. Elizabeth Padilla Simply Smiles DMD Simply Smiles of Auburn - Dentist
5.0 based on 476 reviews

out of
5
stars
253-939-6900 View Phone
1348 8th St NE
Auburn, WA 98002
Like
Dislike
Review
by
Smiling Patient
on Stars: 4.5
2017-08-03
Link
She was very professional with a caring and sensitive personality. Easy to talk to too and attentive to my wishes and concerns. The staff was totally in sync and exemplified amazing customer service, showcasing a sincere and trustworthy persona that was very honest and made me feel welcome and special.
About Front Desk: Very responsive and eager to explain any questions or concerns that I had.
About Hygienist: Very professional and cared about my needs and discomfort.
I know this doctor: new
Agree
0
Disagree
1
Agree
0
Disagree
1