Read review posted by Smiling Patient on Jan. 9, 2016, 8:04 p.m. for Dr. Joshua Wyte - Dentist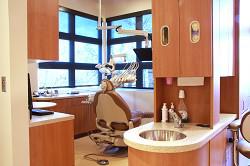 Dr. Joshua Wyte DR Wyte Smiles - Dentist
5.0 based on 72 reviews

out of
5
stars
303-753-9916 View Phone
2131 S Grape St
Denver, CO 80222
Like
Dislike
Review
by
Smiling Patient
on Stars: 5.0
2016-01-09
Link
All my cleanings exams and crown work was done here as well as my 81 year old mother who has had extensive dentistry done (bridge, crowns, root canal, stabilization of teeth etc..) . For oral surgery doctor Wyte makes the best referrals! Personable, professional office. I have never had a better dentist and my standards are high.
About Front Desk: Office staff is great with appointments and billing. The office is always timely. I never have to wait long. Very helpful.
Front desk:
Hygiene rating:
About Hygienist: All the Hygienist here are great. They hire the best. Gentle, caring, knowledgable, professional and personable.
I know this doctor: 4 Years
Agree
1
Disagree
0
Agree
1
Disagree
0