Read review posted by LaDonna on March 21, 2016, 3:30 p.m. for Dr. Joshua Wyte - Dentist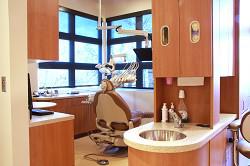 Dr. Joshua Wyte DR Wyte Smiles - Dentist
5.0 based on 72 reviews

out of
5
stars
303-753-9916 View Phone
2131 S Grape St
Denver, CO 80222
Like
Dislike
Review
by
LaDonna
on Stars: 4.5
2016-03-21
Link
Would highly recommend Dr. Wyte. Dr. Wyte makes it a point to visit with his patients after the service has been rendered. He is conscientious and takes time to explain current health status of teeth and what should be considered for future care.
About Front Desk: All front desk staff are accommodating and considerate, even when I am tardy. I am always kept abreast of my account and appointments. This is a great team!
About Hygienist: Betty has been my hygienist for years (prior to Dr. Wyte). It would have to be an emergency to have someone else work with me in this capacity. She is thorough, has great bedside manner, and is an excellent communicator.
Hygiene time: 45
My Experience:
Duration: 45 minutes
I know this doctor: 5 years
Agree
0
Disagree
0
Agree
0
Disagree
0