Read review posted by Judy on March 25, 2013, 8:33 p.m. for Dr. Shauna Gilmore - Dentist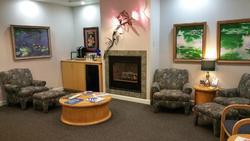 Dr. Shauna Gilmore DDS - Dentist
5.0 based on 163 reviews

out of
5
stars
303-225-7575 View Phone
6881 S Holly Cir Ste 206
Englewood, CO 80112
Like
Dislike
Review
by
Judy
on Stars: 5.0
2013-03-25
Link
If you are at all apprehensive about dentists (and even if you aren't), you should see Dr. Gilmore. I do not like going to see dentists, and had gone a year or two without seeing one. Dr. Gilmore welcomed me, and got me back on track, now I don't miss an apt. The warm wax hand dips help too! She is, without doubt, one of the most skilled dentists I have ever seen. I have a number of crowns, and hers are by far the most comfortable and best fitting. I can't say enough about her chair-side manner. She is friendly, easy to talk to, non judgmental, professional, and extremely talented. I like Dr. Gilmore so much I recently changed my daughter from a pediatric dentist to her. She is great with kids - very reassuring and comforting, and again - does great work. I really can't say enough about her and her work.
About Front Desk: Patty is awesome! Always friendly and helpful when it comes to rescheduling when needed.
About Hygienist: All are great - very professional, reassuring and all do great work!
I know this doctor: 3-4 years
Agree
0
Disagree
0
Agree
0
Disagree
0