Read review posted by Smiling Patient on Feb. 24, 2015, 2:46 p.m. for Dr. Shauna Gilmore - Dentist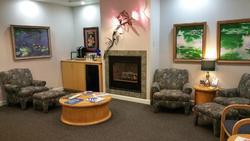 Dr. Shauna Gilmore DDS - Dentist
5.0 based on 163 reviews

out of
5
stars
303-225-7575 View Phone
6881 S Holly Cir Ste 206
Englewood, CO 80112
Like
Dislike
Review
by
Smiling Patient
on Stars: 5.0
2015-02-24
Link
My family has been seeing Dr. Gilmore for over 10 years. We love her passion for taking care of our teeth. My 14, 11 and 6 year old children actually enjoy going to the dentist and are excited to take care of their teeth because of Dr. Gilmore. Her office is beautifully designed, warm and welcoming! We would highly recommend Dr. Gilmore!!
About Front Desk: Very friendly and helpful!
Front desk:
Hygiene rating:
About Hygienist: Very professional, gentle and friendly.
My Experience:
Duration: \N
I know this doctor: 10 years
Agree
0
Disagree
0
Agree
0
Disagree
0